FlexMedical Solutions was established to provide companies involved in the development of point of care diagnostics with the opportunity to lessen their risk profile and increase the probability of them creating a product that is both technically and commercially successful.
The Company
Founded by ambitious and experienced medical device specialists, FlexMedical blends an entrepreneurial approach with a commitment to providing products and services of the highest standard.
Our clients come to us at various stages of their product lifecycle and we can support them whether they are seeking design and development services or manufacturing fulfilment.
With expert knowledge of point of care (POC) diagnostics, we are always confident of adding significant value to every project.
Operating from state-of-the-art premises near Edinburgh, Scotland, the company has an ongoing investment program which has seen it increase its R&D, manufacturing and equipment capabilities in recent times.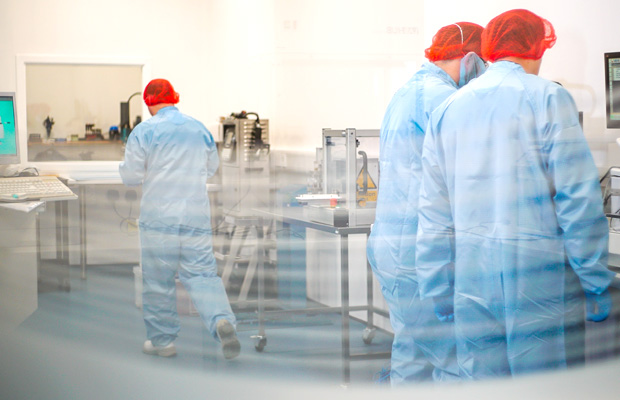 The Team
FlexMedical consists of scientists, engineers and technicians with a host of skills – all of which are focussed on the development and delivery of POC diagnostic technologies.
Our leadership team, Kevin Fallon, Murray Whyte and Donogh FitzGerald, are highly experienced in IVD products, with significant expertise in patient self-test and near-patient devices. Having worked for some of the world's leading diagnostics companies they have helped bring several products to market, importantly experiencing the full product development lifecycle.
Customer Value Proposition
Bringing your point of care diagnostic idea to life, from concept to commercialisation. It's what we say and it's what we do. With clients ranging from early stage university spin-out's to multi-nationals, we always adopt a tailored approach for each project.
Whether you are seeking help with stand-alone electrode manufacture or full biosensor cartridge development we promise to listen, understand and add value to your project.
Feedback from our existing client base is first class and we intend for this to remain the case. Our reputation is everything and we maintain it by consistently meeting or surpassing expectations.
Our Mission
We share our customers' passion and work tirelessly to exceed their expectations. We strive to provide long term, sustainable and affordable manufacturing solutions through data driven decisions.
Our Vision
To be the global partner of choice for diagnostic design, development and manufacture – helping our customers create a healthier tomorrow.
Our mission and vision statements embody the values and goals of FlexMedical Solutions and our team.
In everything we do, our experienced team aim to fulfil our promises to ourselves and those we effect as a business.
We strive to provide a pleasant and growth-orientated environment, encouraging our team to be consistently productive whilst growing professionally and personally within their role.
Our statements help us to stay focused and cultivate a high achieving culture, it is what FlexMedical Solutions is all about.
At FlexMedical Solutions we recognise the impact that medical devices have on people globally and aim to do all we can to create a healthier tomorrow through the power of diagnostics.