The Opportunity
The demand for FlexMedical Solutions' (FMS) services is at an all-time high. This demand is testament to our success so far, market recognition and continued growing interest in Point of Care In Vitro Diagnostic (POC IVD) products. Not to blow our own trumpet, but we have interest from all over the world and our reputation is growing. This is due to our level of technical ability and desire to deliver.
Having successfully developed, launched, and manufactured POC products in partnership with our clients we are a unique organisation, serving industry as well as academia.
Planning for sustained success means that we need talented individuals to join us, and we are recruiting for positions now. As a scaling business, the opportunity to join us now and make your mark is significant. You can help to contribute to our continued growth and success whilst we provide you with an excellent career, helping you to develop your skills and experience within an exciting and growing market.
The Culture
Developing and manufacturing point of care diagnostics is an important business, and we take our role very seriously. That said, we must make the most of our time at work, given that we spend almost 50% of our waking hours working! As such, we have strived to create a warm and friendly environment that fosters innovation and high performance, whilst making all our teammates feel valued and at ease. Having fun and enjoying what we do is particularly important, and whilst we know it's not possible to achieve this 100% of the time, we work hard to maintain our positive vibe.
FMS is a scaling company. This means that our policies and procedures continue to evolve as we grow. It is important that new talent joining us come ready and prepared for the journey, as our people will experience frequent periods of change in response to our ambitious plans for growth. Ensuring we bring the right people onboard is critical to us, as such we put a lot of emphasis on our candidate selection and hiring. Matching an individual to FMS culture is just as important as the skills and experience that they bring and is key to the success and wellbeing enjoyed by both parties.
We don't like barriers at FMS, so we took a purposeful decision to plan the office area without private offices, regardless of roles performed. Irrespective of role or job title, your workspace will appear similar and consistent to your neighbours.
Regular communication with our employees is very important to maintain high levels of engagement and ensure employees feel involved and informed. Aside from regular informal communication that goes on, a monthly business update meeting is held each month. Everyone is invited to attend this, and the range of content shared varies from project updates to health & safety briefs, to Christmas party plans. The level of information shared is something we see as a differentiator – we are a 'no surprises' organisation and keep people as informed as we can. The rate of change can make this a little difficult at times, so we welcome and encourage our people to ask questions at any time. Everyone is encouraged to speak up and to share their ideas and concerns – we want everyone in the team to feel empowered to do so.
Don't just take our word for it though, our people will tell you that we communicate very well. The results from our most recent annual employee survey endorse this, and we take onboard everyone's feedback, so that this is channeled in to initiatives or improvements that continue to make FMS an even better place to work.
We are wholeheartedly invested in our people. Twice a year, all employees have a FlexMedical Annual Review, known internally as 'Go-FAR'. Go-FAR is designed to help maximise individual and company performance and identifies development opportunities. Importantly, it also offers the opportunity for feedback to be shared and action plans to be created. The company has been described as passionate, hardworking, open, encouraging, invested, approachable and empowering by colleagues across all departments.
FMS welcomes diversity and is an inclusive employer that promotes equality and opportunity for all our people. We are a business focused on delivery and performance and have no time for discrimination of any kind. Diversity adds richness to the tapestry of what we do and who we are. Indeed, this can be evidenced by the wonderful array of talented individuals working for us!
New Technology Development
They say variety is the spice of life, and that's particularly relevant when you look across our current product development portfolio. We are actively engaged in the development of diagnostic solutions for clients all over the world from Asia through Europe to North America and Australia. We embrace the opportunity to collaborate with teams displaying a wide range of experiences and cultures.
We are considered technical experts in the design, development, and supply of electrochemical biosensors. We have active programs focusing on the development and supply of electrodes and further incorporation of biosensors into complete fluidic cartridges prior to optimization, validation, and launch. This technology is not only deployed in point of care (POC) diagnostics but also utilized in continuous monitoring sensing for human IVD and non-medical settings such as agri-food and environmental.
We don't stop at electrochemistry; we also develop fluorescent solutions for clients. We have significant experience in enzyme-driven chemiluminescent systems and enzyme-driven electrochemical systems for cardiac markers such as BNP and Troponin.
We can offer this broad range of technical services because of our immediate experience and our combined historical experience as a team. The team has held senior roles in several high profile global diagnostic companies, which spans the complete range of disease states, from diabetes and coagulation to cardiac and tumor markers.
Our clients engage FlexMedical Solutions at different stages in their Development and GoTo Market life cycles, where we rapidly evaluate the maturity of the technology and advise as to the quickest and most cost effective pathway to launch. To ensure this we utilize best practice project management processes such as bone-on-bone planning, daily management, visual project management and tracking progress by measuring the burn down of technical risk.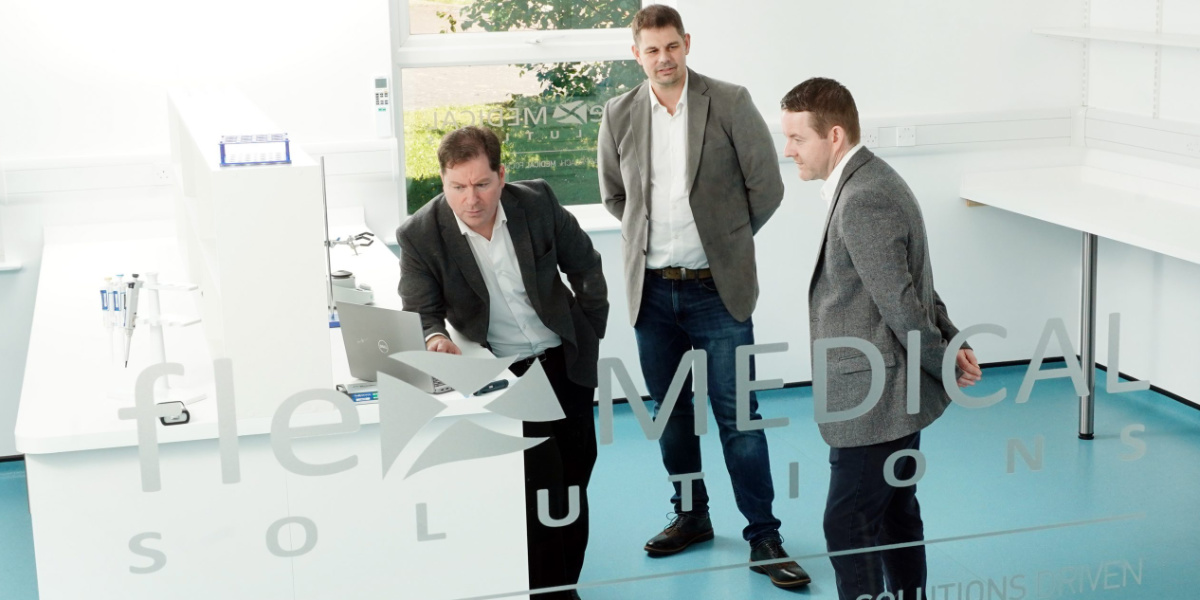 The Journey So Far
Some people might describe FlexMedical Solutions (FMS) as a 'bootstrapped startup'. Given that the company was founded entirely on capital provided by the founders, the description is technically accurate. As a contract service providing business, the value was always going to come courtesy of increasing revenues, coupled with healthy profits and a positive balance sheet. We have come a long way since this and achieved a lot in a short time. Here's our journey so far…
Few starts ups can claim to be profitable from the get-go, but FMS has been profitable in every year of trading thus far, and re-investing profits continues to be at the heart of our success.
Incorporated in December 2014, the founders acquired certain (tangible) assets from a previous employer. Having no premises, said assets were immediately shipped to storage and our short-term focus was on pulling in capital to fund the next phase. 2015 consisted mainly of consulting, identifying potential premises, and starting to target clients. Consultancy assignments stretched from Glasgow to San Diego and the required funds were accumulated. The year ended with us identifying premises in Livingston, West Lothian.
On April 1st, 2016, we moved into our first premises, 2500sq/ft of office, lab and manufacturing space. Our equipment was retrieved from storage and FMS was go! FMS exhibited at our first ever trade show (MEDICA in Germany) and it all started to feel very real. We began pulling in small pieces of bespoke work (mainly electrode production) and the sound of our drying tunnel became music to our ears, as the drone of the dryer meant revenue generation.
2017 seen the team grow to 5, win a SMART grant, and invest the first of our profits in upgraded screen printing, drying, and converting equipment. Our customer base was growing nicely, and our network of established contacts helped us considerably. When it comes to contracting, reputation is everything. Point of care (POC) diagnostics is a small industry and relationships are not to be taken lightly.
The business continued to gain traction and within a short time we started to run out of space (a nice problem to have!). To deal with our space issue we embarked on our first expansion in 2018, effectively doubling our lab and manufacturing space and allowing us to service new clients from North America and Europe.
We continued to grow and in 2019 we doubled our turnover and benefited further from a significant level of capital investment. By this stage, the team had increased to 10, and a brand refresh, courtesy of some focused marketing activities, took place, looking at our customer value proposition, mission, and vision.
Up until this stage, FMS was predominately an engineering and manufacturing business. However, in 2020 that was about to change. We secured some grant funding to help us build a highly competent scientific group. Despite a world pandemic, the R&D side of the business began to flourish. Our second expansion took place, providing us with the ability to manufacture reagents in bulk scale. We secured a long-term contract with an exciting client – becoming their primary partner for full assay development.
By the end of 2021 our team was over 30 strong. We had purchased and fitted out another building (our third expansion), enabling us to dedicate some 3000sq/ft to laboratory space. Significant increases in turnover allowed us to invest seven figures in state-of-the-art technologies and position ourselves as a global leader in POC In Vitro Diagnostic contracting.
Our successful growth continued throughout 2022 with additional clients and exciting new projects that resulted in us almost doubling our headcount on the previous year. We successfully commercialised several products, delighting our customers.
What does 2023 have in store for us? All good things, and we're on the lookout for exceptional talent to share in our journey and contribute to our continuing success.
Location
You'll get a warm welcome in Livingston!
Since its birth, Livingston has grown and grown and is now the largest town in West Lothian, offering a range of housing, work opportunities, amenities, and other attractions appealing to a wide variety of people.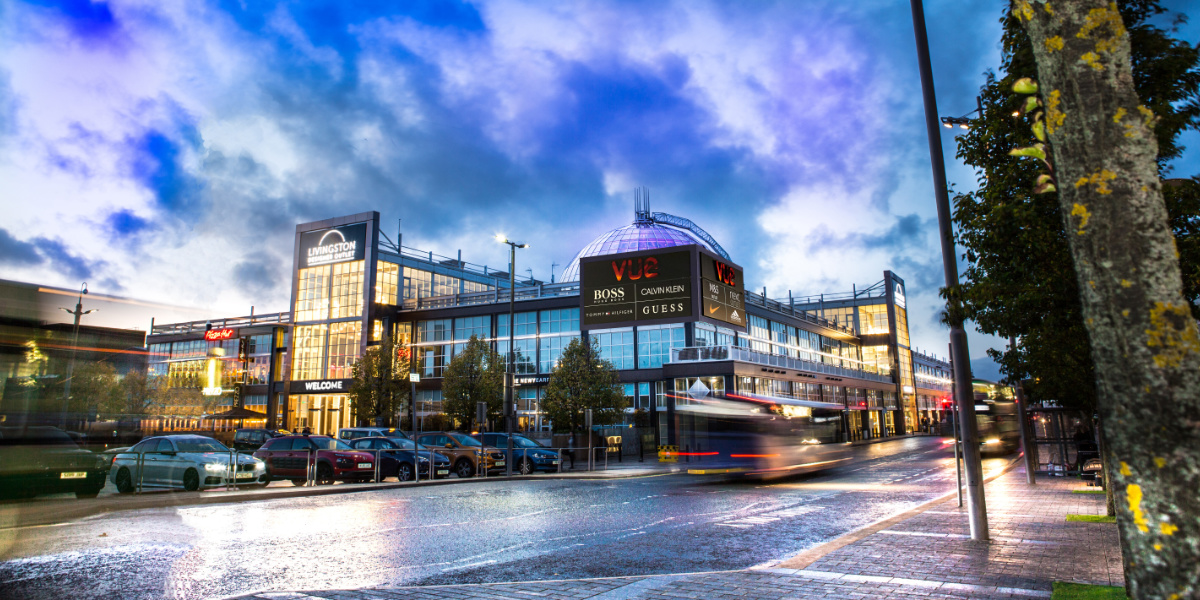 Situated to the north of the Pentland Hills within Scotland's central belt area, we are located approximately 13 miles from Edinburgh, and 30 miles from Glasgow. Livingston is served well by road links and public transport, so is easily accessible and offers an attractive commute for many workers.
Connected by a great transport network that includes the M8, the journey to and from Livingston is straightforward. There are two train stations, North, and South, providing links from Edinburgh and Glasgow, including towns and villages along the way. FlexMedical is within 15-20 minutes walking of Livingston North train station. If bus is your thing, there's a choice of providers operating locally and from the wider central belt region. Livingston has lots of cycle paths and walkways, making all areas easily accessible by bike or foot. And whilst you are not likely to be commuting to work by plane, it's good to know that come holiday time, if jetting off, we have the pick of two international airports. Edinburgh Airport is a mere 15 minutes' drive from Livingston.
With a population of approximately 66,000, there is a range of housing to suit all, from new builds, to more traditional housing stock within the immediate area. House prices are highly competitive and with so many great amenities in and around the area, it is no wonder that many people make Livingston their base.
Nestled in an ideal location within West Lothian, the county has some amazing nature and beauty spots on our doorstep. There's plenty for all to enjoy locally including Almondvale Country Park, with its scenic river walks, Almondell & Calderwood Country Park and Beecraigs Country Park.
Further, there's a great mix of educational establishments, hospitality, entertainment offerings, sports and leisure facilities, eateries, religious and community hubs, and let's not forget (for the shopaholics among you), the excellent shopping at Livingston Centre and nearby McArthur Glen Designer Outlet (Scotland's largest such outlet). The great range of choice and free car parking attracts shoppers from all over the central belt area.
If you're new to the area, Livingston offers so much more besides, including a rich diversity of employers from manufacturing through to hi tech and new technologies.
Why don't you come and see for yourself!
Role Progression Stories
Karen Graham – QC Document Controller
Allow me to introduce myself. I am Karen Graham, a 60-year-old woman who has found her professional home at Flex Medical Solutions. I want to share my journey within this amazing organisation, which has provided me with endless opportunities for development and personal growth. And, I might add, it has been an absolute blast along the way!
Having joined the company two years ago, I thought I was embarking on the final chapter of my career; I had no grand plans for professional development, as I thought I had reached the stage where I would gracefully coast towards retirement. I quickly realised that age is merely a number, and learning has no boundaries. The vibrancy and vitality of my co-workers created an environment where curiosity thrived and new ideas flourished. I found myself inspired to push my own boundaries, to explore new avenues.
The company's commitment to nurturing talent and promoting internal mobility allowed me to explore different roles, and I am happy to share my journey with you. Having started at Flex as a Manufacturing Operations Technician, I moved to the post of QC Lab Technician shortly after my first year, and then recently to my current position within Document Control. Here, amongst my day-to-day work, I'm known for being the formidable keeper of the paper shredder! Yes, you read that right, I'm the shredder guardian.
When I first dipped my toes into the world of Manufacturing Technician, little did I know that this would be just the beginning of things. From this, I transitioned into the world of Quality Control as a Laboratory Technician. This role exposed me to the meticulous art of ensuring the highest standards for our products. Through it, I developed an eye for detail and a deep appreciation for the company's unwavering commitment to excellence. But my journey did not stop there. The opportunity for lateral movement beckoned, and I found myself venturing into the realms of Document Control. As a Document Controller, organisation, precision, and unwavering efficiency are essential as well as paper shredder guardian duties! We take our work seriously in the Quality Department and the shredder is a symbol of our commitment to security and confidentiality.
At Flex, the spirit of knowledge sharing and collaboration runs deep. As a woman in her sixties, I am embraced and valued for the wisdom and unique insights I bring to the table. It is refreshing to work for a company that values individuals for who they are, regardless of age or background. Together, we embark on projects, tackle challenges, and celebrate victories. Age becomes irrelevant as we come together to bring the customers point of care diagnostic idea to life, from concept to commercialisation.
What truly sets Flex apart though, is not just the boundless opportunities for growth, but the incredible people who make up this vibrant community. We are a close-knit family, brought together by our shared passion for what we do and our love for a good laugh. The energy within the workplace is infectious, and it keeps us motivated, inspired, and excited to come to work each day – from staff nights out to our Summer BBQ there is always time for both work and play.
The devices we make have a positive impact on the end user, allowing diagnosis of a range of conditions from infertility to heart disease at record breaking speed. Working at Flex allows me to have a positive impact on people's lives and complete job satisfaction while doing so.
Darren Lamb – Product Development Engineer
Over the two years I have spent at FlexMedical Solutions, I have had the opportunity to work on a great variety of projects and products. All projects have presented unique technical challenges to solve, but it has been rewarding to work with the fantastic team here to resolve them and offer up successful solutions to our clients.
Having started at FMS as a recent graduate, I have had lots of opportunities to apply and build on the knowledge that I gained at university, as well as expanding on this with all the new skills and information I have picked up along the way. I have particularly enjoyed being able to get hands-on with the manufacturing processes and equipment which, as well as being a personal interest of mine, has helped me to better understand the requirements of our processes and build these into the design of our products from the get-go.
There is a great team of people working at FMS who are always happy to help out when needed. There are a lot of people who are very knowledgeable in their field, and I have enjoyed being able to work alongside them… whilst absorbing as much of their knowledge as possible!
The company is proactive in offering on-going development options, such as training courses and various certifications that allow you to progress your professional career. In my case, this took the form of the Yellow Belt Six Sigma training course, something I learned a great deal from and plan to expand on by undertaking Green and Black belts in the future, both of which are offered by the company. There are plenty of other non-technical development opportunities too for example Excel training and First Aid training.
It has also been nice to see that hard work doesn't go unnoticed at FMS, having personally experienced progression since starting at Flex myself. In the relatively short time I've been here I've been promoted from my initial position of CAD Technician into Product Development Engineer. I was, and still am, very grateful for this opportunity. At times the additional responsibilities can seem daunting, but I know that I have the support of more experienced and senior members of the engineering team to help guide me through any challenges that are thrown my way.
It's not all work though at FMS, as everyone also enjoys getting to relax from time to time, and the social events that the company put on are the perfect way to do this. The annual summer BBQ is a particular highlight in the Flex calendar, and there are plenty of other opportunities to socialise with everyone at the company.
Whenever someone outside of work asks if I enjoy my work I tell them that I love it without hesitation, and I think that tells you all you need to know!
Luke McGill – R&D Scientist
My first two years at FlexMedical have been very exciting. I joined the company in March 2021, which was an opportune time, as new facilities had just been acquired, allowing for a significant increase in R&D laboratory space and manufacturing areas. The company has grown rapidly in the short time I've been here. In terms of the staff numbers, I was employee 26 and now there are 55 employees.
My background was in a different field of science and although I have transferable skills and experience of working in an R&D laboratory, there was lots of technical knowledge I had to gain to get up to speed relating to in-vitro diagnostics (IVD) detection systems and electrochemistry. However, I was well supported in doing so. I've found that this is the best aspect of working here – there is a great culture, and everyone is helpful and supportive. This includes not only my immediate colleagues that I work beside in the lab, but across the entire company. Whenever you step into unfamiliar territory you are always guided were this is needed. This makes for an all round collaborative and friendly atmosphere and encourages progression.
I started as a Product Development Technician where I was primarily focused on developing an enzymatic assay for a Point of Care (POC) IVD device. This involved building reagents, executing experiments, analysing data and reporting findings. Through development opportunities and a development plan I progressed to a R&D Scientist I. My role now involves working alongside the manufacturing team, as we have recently moved into Phase 3 of a development project.
Since progressing to this role, I have assisted in the Operational Qualification (OQ) phase by drafting manufacturing procedures and participating in manufacturing runs. One factor that enables me to do this is the in-house training I've received on various pieces of manufacturing equipment, primarily focusing on our automated deposition system, and writing corresponding programs. I've been supporting in the setting up and running of said equipment as well as advising and providing information with regards to the product and it's CTQ parameters. This should help ensure an efficient transfer over to the manufacturing team when we progress to the next phase i.e. Performance Qualification (PQ) runs.
There are always opportunities for development, which is a positive aspect of working at FlexMedical. For example, I have received external Six Sigma Yellow Belt training to learn fundamental problem solving methodology and tools. Additionally, science team members including myself have received internal electrochemistry training from a senior scientist with lots of experience in this field. This is available to newcomers as they join and for any staff member interested. A further opportunity made available to all employees recently that I also took up was Intermediate Excel training. This allowed me to enhance my data processing skills and obtain more valuable information from experiments.
At FlexMedical we have an annual review process called 'Go-Far', where we have individual goals and objectives set, aligned to the company's goals and objectives. This provides us with the chance to agree personal development needs with our line manager that supports our progression and personal development interests, with objectives tailored accordingly. Our progress towards objectives is followed up by a mid-year review, which provides an opportunity to identify any additional support required before a final year-end review takes place. The 'Go-Far' process also allows for and encourages employees to provide feedback to their managers.
My time here so far has been a fresh, engaging, and exciting experience. Further down the line I hope to keep progressing by achieving my Six Sigma Green Belt certification and more internal training manufacturing equipment to broaden my capability to ultimately contribute towards FlexMedical's success.
Testimonials
"I find Flex a very open environment to work in, where all ideas are considered and discussion is encouraged to achieve the best outcome. People here are more than just colleagues, there is a lot of respect and trust around the business, both personally and professionally. That's why I like working here!"
Hugh Morris – Supply Chain Controller
"Since joining FMS as a Manufacturing Technician, I have fitted in well with my team and the job role. I am enjoying the challenges of working within a fast-growing medical device company, that develops products that will improve peoples' lives…. Best decision I have made."
Carolyn Thomson – Manufacturing Technician
"FlexMedical Solutions gives you lots of opportunities to work with people with different chemistry and manufacturing backgrounds at all levels in the company.  It is a very collaborative environment where you can still make your mark and have ownership of experiments you run."
Victoria Thomson – Product Development Technician
Competitive salary
Company Pension Scheme
Sick Pay
Private Medical
Life Assurance
Critical Illness
31 days annual leave (with option to purchase more)
Cycle to Work Scheme
Discounted Gym Membership
Friends and Family Referral Scheme
Volunteer Day
Free Car Parking
Discounts on a range of goods, services and leisure activities
Casual Dress
We have several exciting roles coming up for assay and biosensor development projects, based within our Science team. If you have experience in assay development/electrochemistry and wish to be considered, please contact us at
recruitment@flexmedical-solutions.com