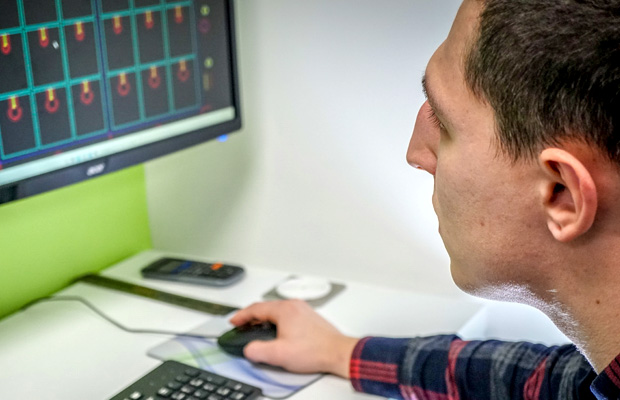 FlexMedical Solutions has key expertise in Point of Care (POC) and in-vitro diagnostics design. While we work alongside electronics and instrumentation developers, we ourselves focus on the disposable portion of the test.
We will work with you to design and develop a test strip or cartridge suitable for your assay. Whether it be complex microfluidics, electrode function or the intricate integration of silicon into cartridges, we can offer experience and certainty to the design process.
Concept Design
Our team of highly experienced, highly skilled design engineers can make it easy for your investors, customers and stakeholders to visualise the target product. As is expected these days, we utilise the latest CAD software to generate 2D and 3D models.
Much more importantly, FlexMedical has the manufacturing capabilities to rapidly turn your design concepts into tangible prototypes. These prototypes can then be used to demonstrate functionality or for initial evaluation purposes.
Proof of Feasibility
The feasibility stage is crucial for the aspirations of any diagnostic product developer. Success can lead to a well-funded project whilst failure can mean the end of the line.
Although FlexMedical Solutions can't promise that partnering with us will guarantee success, we can promise that it will improve the likelihood of a positive outcome. When it comes to innovative thinking and simply making things work, you can rely on us.
Design for Manufacture (DFM)
Whether it be the consideration of tolerance stacks, efficient usage of materials, minimising the number of process steps or simply making sure that the supply chain is capable and assured, you can be certain that FlexMedical will always have one eye on volume manufacture.
Designing for now does not guarantee a commercially successful product – designing for tomorrow does.
Design for Test
How will your product be tested?
Understandably, this isn't necessarily the first thing on your mind during design feasibility. However, failure to pay due consideration can lead to costly and cumbersome destructive testing mid or post manufacturing.
Understanding and considering the critical to quality (CTQs) features at the earliest possible juncture can lead to crucial in-process controls being built in.
Design for Excellence
Overall, turning your concept into a successful diagnostic solution can be something of a balancing act. The balance in question is between cost, quality and delivery (lead-time).
Partnering with FlexMedical will mean finding that sweet spot sooner rather than later. Together we can build a compelling case for your idea.
Together we can journey towards excellence.