FlexMedical Solutions works in partnership with clients to ensure timelines and costs are minimized, and performance, robustness and consistency is at the forefront of the deliverable.
FlexMedical Solutions works in partnership with clients to ensure timelines and costs are minimized, and performance, robustness, and consistency is at the forefront of the deliverable. We leverage 6-sigma methodologies and statistical design of experiments (DoE) from the start of the development process, not just in the final stages, we find this repeatedly leads to the correct technical decisions being made, ensuring the clients product needs are met quicker.
By working to our internal Design Control process, we ensure the work carried out by FlexMedical Solutions meets all the compliance needs for products developed for commercial purposes.
We have product development experience in the following areas (but not limited to):
Immunoassays, enzymatic assays, electrochemistry, chemiluminescence, fluorescence, electrode design, microfluidics, e-chem optimization, surface chemistry, conjugation chemistry, reagent dispensing and drying, resuspension mechanics, stabilization, calibration and control schemes.
We offer full scientific support for your sensor and product needs, from early concept through development, validation and into routine manufacture and commercial supply. This involves development of in-process tests tailored to the specific requirements of the clients sensor, which ensures the correct Critical To Quality (QTQ) metrics are identified, characterized and measured. A key components of all diagnostic system integration is standardization/traceability, calibration  and control development & specifications setting. The FlexMedical team have delivered integration solutions for a range of diagnostic products.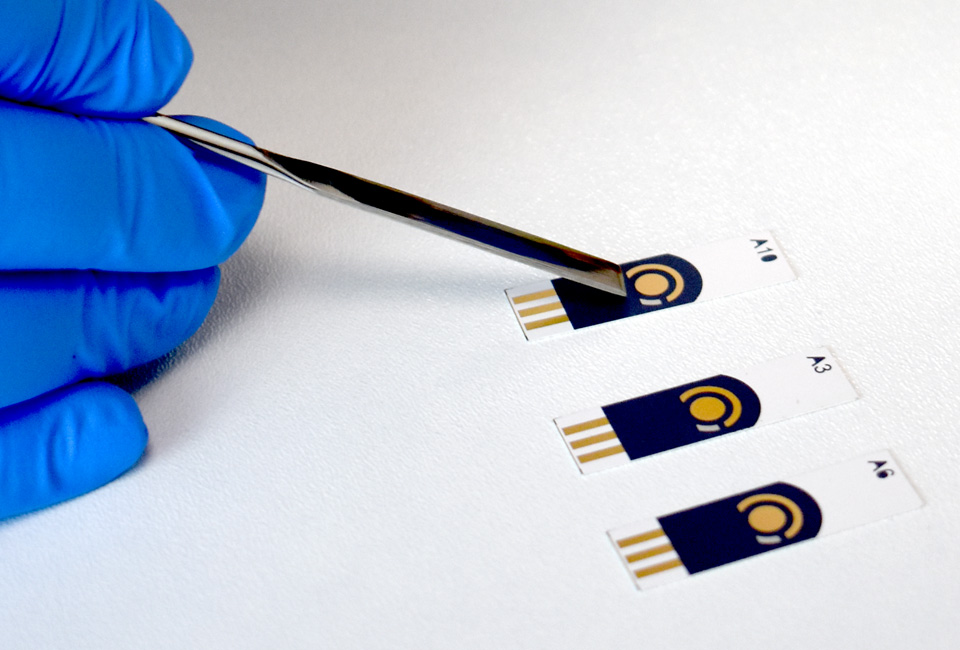 We have a block of discrete labs dedicated to client sensor development and validation. Adjacent to the product development labs are additional support labs dedicated to reagent development and clinical sample storage and testing (ensuring better containment of risk). The close proximity to our manufacturing facility ensures seamless communication between R&D and Operations, meaning all programs stay aligned to one of our core philosophy of Design for Manufacturing (DFM).
The company has a track record of rapidly demonstrating proof of concept for new assay architectures such as immunoassays, enzymatic assays, continuous monitoring assays, using our inhouse designed and produced screen printed caron, or gold ablated sensors (depending on architectures and performance requirements).
Our science team have a broad range of experience in successfully launching products on laboratory instrumentation as well as portable POC systems, covering multitude of IVD methods such as immunoassays, clinical chemistries, chemiluminescence, fluorescence, electrochemical and enzymatic test methods.

In addition, we can now offer support for clients to cover the following key areas of their product development life cycle.
Electrochemical characterization of supplied electrodes and optimization to meet performance needs.

Contract development of assays.

Reagent chemistry and materials development.

Assay multiplexing.

Support in development of disposable electrodes for POC testing.

Product design robustness, process scale-up and characterization.

Assay control schemes developed to meet regulatory needs for product launch.

Product calibration strategies to assure system accuracy and traceability.

Development and supply of external controls and range setting for POC products.

Product design and claims validation.
We can also support your overall project needs, ensure all requirements are considered at the outset ensuring a Design for Manufacturing (DFM) philosophy is embedded in your organization.
For more information on our science team's capabilities: